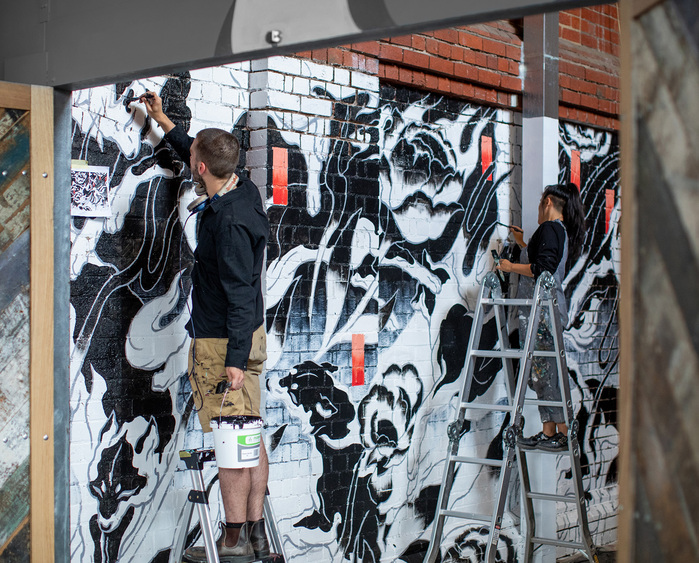 CREATURE CREATURE is an artist duo consisting of Chanel Tang and Ambrose Rehorek based in Melbourne in Australia. They first met at university and 'flirted through art' until they formed an official union in 2011 under one name. Creature Creature was chosen from a quote in the 1960's film A Bucket of Blood; "A Creature is a Creature…or it is an artist!" Since then, they have continued a collaborative art practice that spans across exhibiting art, murals, street art, design and illustration.
Their work represents duality and the sum of a whole, a message of togetherness, states of balance, yin and yang. Their partnership breaks the myth of the lone artist, as collaboration is an instinctive ritual for them in realms of art, love and life. Collaboration is about preserving diversity, creating something complex, layered and fluid. The beauty of coming together.

Born in Adelaide, Ambrose has a Degree in Visual Arts from the University of South Australia.
Chanel was born in Wellington, New Zealand, moved to Australia in 1998 where she did her Degree in Fine Art at Monash University. They met doing a Graduate Diploma in Graphic Design at RMIT.
Some of our clients include: Adidas, AS Colour, Cotton On, The New Yorker, John Holland construction, Swinburne University, AUS Post, Ocellus studios, Melbourne Food and Wine festival, Single O coffee, MAVA Collective, Strawberry Fields music festival, City of Melbourne, Whitehorse City Council, City of Stonnington, City of Maribyrnong, City of Yarra, City of Hurstville, Wyndham City Council, City of Port Phillip, Yorke Peninsula Council, Melbourne Water, SA Water, Wagga City Council.
Photo by Shannyn Higgins
ARTIST CV
Education

Ambrose Rehorek
2005-2008 Bachelor of Visual Arts, University of South Australia, Adelaide2010-2011 Graduate Diploma of Graphic Design, RMIT, Melbourne

Chanel Tang
2007-2009 Bachelor of Fine Art. Monash University Caulfield, Melbourne, Australia.
2010-2011 Graduate Diploma in Graphic Design. RMIT, Melbourne Australia

Solo Shows
2013 Red Leaves, Espionage Gallery, Adelaide CBD
2013 Bruiser, Chaotic gallery, Windsor, Melbourne (Artists Lane)
2015 Never Ending, No Vacancy gallery, Melbourne CBD.
2016 Daggers, Blender Studios, Melbourne CBD.
2017 Binary Star, Outre Gallery, Melbourne CBD.
2018 Chaos Born, Off the Kerb Gallery, Collingwood, Melbourne.
2019 Hold Hands, Outre Gallery, Fitzroy, Melbourne.
Murals/Public Art
2013 Wild Rhinos Sculpture trail, Taronga Zoo
2014 Horne, mural for Abbotsford Convent
2014 Wind Guardians, pasteup mural, Stonnington City Council
2014 Lucky Coins, mural for Revovler Creative
2015 Dont Mess with Footscray, 6 floor decals, City of Maribyrnong
2016 Predator Dance, mural for Strawberry Fields festival
2016 Still Waiting, pasteup mural for Yarra City Council
2016 Elements, mural on hoardings, Melbourne Water, John Holland construction
2016 Urban Meditation, mural for Hurstville City Council
2016 Nest, mural for Maribyrnong City Council
2016 Love Letter, mural for Red Bubble
2017 Feeling and Form, mural for level crossing removal project John Holland construction
2018 Past and Present, Mural for City of Port Phillip
2018 Land to Water, 9 signal boxes for City of Port Phillip
2018 Good Luck and Prosperity, mural for Victoria street Business association
2019 Kangaroo Flat, mural Lansell Square, Charter Hall
2020 Resurgence, mural for Can't Do Tomorrow festival
2020 Canter, mural for SheBuilt design and construction
2020 Local Lovesong, interior art and billboard design for Adidas
2021 Wild Water Fowl, mural on water tank, York Peninsula council and SA Water
2021 Neon Cats, mural for Section 8
2021 Affinity, mural for Whitehorse City Council
2021 Ether, mural for Swinburne University
Residencies
2015 Four months artist residency, RedBubble Headquarters, Collins st, Melbourne
2015 Three months artist residency, Wyndham Vale community and learning centre, Wyndham Vale, Melbourne
2017 One month artist residencey for Q-Bank Gallery, Queenstown, Tasmania
Workshops
2015 Art of Collaboration, RedBubble Headquarters, Collins st, Melbourne
2016 Talkshops, Live Painting and Q&A, No Vacancy Gallery QV
Prizes/Awards
2016 Platform Urban art prize, Mural 'Urban Meditation', Hurstville Central, Sydney
2016 Little Help Project, Grand Prize for T-Shirt design 'Sashimi' for AS Colour